The Blockchain Masterclass
12 Days Perfect course to Master BlockChain. Get mentored by experts from industries & corporates.
Non-Prior Knowledge Required!
Recommended especially for students who are looking to build a strong profile. Become an expert of Blockchain
The Blockchain Masterclass worth Rs.25,000/- Rs.15,000/- (+GST)
Use Code Engage7x40 offer valid till mid-night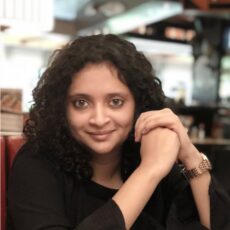 About the Trainer
MBA in Marketing from JBIMS.
IBM Digital transformation strategy consultant
Blockchain, Design thinking expert
How does a business function
Components of business
Definition of Blockchain
Blockchain Concept -Shared/Distributed Ledger
Blockchain Concept -Smart Contract
Blockchain Concept -Privacy
Blockchain Concept -Trust
Evolution of Blockchain
Challenges in traditional network
How Blockchain aids to build a robust network
Mine to Shop example
What is bitcoin
What makes bitcoin lucrative
Bitcoin mining
How Bitcoin works?
Types of blockchain
Types of blockchain technology
Blockchain Architecture
Component of blockchain
Role of cryptography in blockchain
Blockchain in Finance
Blockchain in Supply Chain
Blockchain in Cyber security
Blockchain in Healthcare
Blockchain in Telecommunications
Blockchain in Manufacturing
Blockchain in Automobiles
Introduction
How Blockchain Can Help Marketers Build Better Relationships with Their Customers; Part 1
How Blockchain Can Help Marketers Build Better Relationships with Their Customers; Part 2
How Blockchain Can Help Marketers Build Better Relationships with Their Customers; Part 3
How Blockchain Can Help Marketers Build Better Relationships with Their Customers; Part 4
How Blockchain Can Help Marketers Build Better Relationships with Their Customers; Part 5
Conclusion
Framing a blockchain concept
Cases where blockchain does not work
Blockchain Myth
Blockchain Masterclass worth Rs.25,000/- for Rs.15,000/- (+GST) – Use Code Engage7x40
offer valid till mid-night
Get Started
The Benefits of the Blockchain Course.
Success Stories, why students love our MDP Course
It was an immense pleasure to attend the leadership & strategy lecture. Aishwarya ma'am made us understand each and every concept very clearly by giving examples by keeping it two-way lecture rather than making it boring. It was knowledgeable as well as fun learning.
It's a set of 5 most demanding subjects of the future listed as,

1) Digital Marketing

2) Data Analytics

3) Blockchain

4) Leadership and strategy

5) Strategic Brand Marketing

15 days into these 5 courses :

The professors were experts in their respective subjects and had a very clear sense in how it is to be put in front of someone who has a little or absolutely NO knowledge about the subject.

Effective use of presentations gave us a clear idea about the subject, making the teaching-learning process much easier.

Well planned assignments were given which helped us understand the real-life applications of the subjects in various fields.

Pushing ourselves into the reality of the corporate world by making groups complete certain projects before the deadline helped us to experience the thrill of working together and presenting our work virtually.

If you truly want to level up your game and stand out of the crowd, you should undoubtedly enrol for these courses and be a part of this wonderful learning coaster ride.
The course was of 5 different subjects. Indeed all subjects were taught by great faculties with great enthusiasm and in-depth knowledge. All subjects taught me not just only theoretical things but also practical things and all sessions were very active sessions with full opportunity to Question and answer our own views. Amongst all 5 subjects, I very much enjoyed learning about strategic brand marketing which was taught by Anisha Mukhija maam and it helped me learn much more about its functioning in the real world. I'm thankful to all the faculties for their efforts and time they have dedicated to teaching us.
I have done the MDP Course from Engage 7x Academy, So I will be the right person to give feedback about this course. MDP Course provides 5 courses:-

1.Data Analytics

2.Digital Marketing

3.Blockchain

4.Leadership and Strategy

5.Strategic Brand Marketing

All courses completed in 15 days (3 days for each course).

Most of the people think that we can get all these courses on Udemy, Udacity etc platform in very low price but then what is the USP of this MDP courses.

The USP is the Assignments and HBR (Harvard Business Review) case study along with the knowledge which you will be getting from the industry experts and also the Udemy course will provide you videos and you have to learn by yourself by watching it but I think it is same as reading a book and get the knowledge by yourself but this course is not like that.

The faculty will explain you everything with their presentation and if you don't understand anything you can ask doubts as many times as you can and the assignments are designed in such as way that it tests you whatever you have learned from that course. And the main important aspect of this course is HBR case study which will expose you the real implementation of the domain/technology to get the solution for the real-world problem faced by organizations.

I don't think so that I would get this much of knowledge in just 15 days about so many technologies and skills and more than that the faculty will suggest you to do some courses which are available in the market which will enhance your skills to excel in that domain.

I will highly recommend this MDP course who is very serious to learn about these technologies and skills. It's completely worth the money. You can sign up for each course separately or else you can enrol for all courses in one package. I had signed up for the whole package for all courses.

I would like to thank all the mentors from MDP Course, Radhika ma'am the way you had taken the quizzes it was fun to learn about blockchain and lastly a big thank to Rahul Sir and Anisha ma'am for providing us with an opportunity to learn these courses from experts.
Unlike most of the other students, I had enrolled for the Three-day course on Brand management by Anisha Ma'am.

Honestly speaking, I was a bit apprehensive in the beginning as I had already done a few online courses from EdX on this topic. But only within a few minutes into the session, I could clearly differentiate between the two.

Anisha Ma'am who has relevant experience in working with the top FMCGs in the country she makes sure that her students actually gain real-life insight into the industry unlike the other courses in the market who primarily focus on theory example approach.

My favourite part about the course was that we were given assignments at the end of every session but we were also asked to present them, which kept me motivated throughout the three days.

Anisha ma'am as a person is very approachable she makes sure that our examples are acknowledged during the session and makes sure that there is enough interaction between the students. Still, wish we could spend more time on the course.

In fact, I still remember that I told Anisha ma'am that I would be keen on doing the Advanced course on Brand Management too.

I would totally recommend this workshop to all the aspiring brand managers and MBA aspirant as this definitely adds a spike to your CV.

I wish engage7x academy all the best for all its future batches.
The most productive 15 days of my lockdown!

A course filled with real-time case discussion with industry experts, opportunity to undergo live projects, curate an ad campaign. This course gave me a run up to what my life would be in s B-School!
I learned so much from the MDP program. The professor presented the subject matter very clearly. The structure was great and I felt the professor paid attention to the audience, and as such not just lecturing, but actually engaging the class. Out of all my courses, this has been one of my favourites. He's very enthusiastic and he could elaborate on how the theories or academic ideas are applied in real life.

DATA ANALYTICS

The course materials were very well developed and included everything that was needed. The lecture slides were also well organized and the lectures were very clearly presented. It was great that we had a new case every week so that we got to know different examples for each piece of theory and didn't get bored

BLOCKCHAIN

The lecture material was well complemented by in-depth yet not overly confusing support material in the handouts. The lecturer is light-hearted and tries to make material interesting, which when studied, is actually very helpful on other areas of the course. Well presented handouts provided at beginning of course make lectures easy to understand and make it possible to read ahead. Also can understand the lecture rather than frantically taking notes like in some other modules"

STRATEGIC BRAND MARKETING

I joined this course hoping for gaining an insight into leadership strategy. Didn't expect much out of it thinking how could someone learn leadership; however, I was proven wrong. The interaction that I've had with my classmates and the faculty's approach to teaching was way better than other online programs. the lecturer had a practical 'learning-oriented' methodology and it was an interactive platform. The class comprised of students across various backgrounds and it was an amazing experience. A leader is born or created still is a matter of study … but yet… what an experience!!!

LEADERSHIP and STRATEGY

I loved this course. The content was interesting and mostly the teacher had energy and passion in teaching and everything was very well structured and organized. I very much enjoyed this course and would definitely recommend it to future students. Well organised, good support. You know exactly what you should have in terms of notes and what you should have done in terms of exercises.

OVERALL ABOUT MDP
The course was worth every minute, very reasonably priced if you compare with other websites offering this kind of course.

It was a power-packed course of 15 days. Learned a lot of new things, very didactic.

Informative, Instructive, Factual, Explanatory!

The best part is the faculty, they're all smart, intellectual and experienced people, very co-operative with Q&A. Plus you've got real-time assignments, they do keep a track of it.

I won't elaborate on the course curriculum, other fellow mates have already done that, you can read them below.

Thank you Engage 7x academy. Loved it.

PS. Anisha, thank you for dragging me into this. Lockdown Safal Hua.
I just loved the MDP course designed by all the faculties in so much knowledgeable way…All the insights and knowledge gained from there would surely help me in my career afterwards. As I'm a keen lover of learning new and creative things, I found the right platform to enhance my skills and learned a lot under all the teachings of real case studies and factual interpretations from them. Also learned team cooperation and enjoyed it from the core.

Started with DATA ANALYTICS

Got to learn under one of the great Data Scientist's I.e., Texas Sir, who not only made us understand about Data Analytics but also discovered future scopes and reached how to really deal with real-world data through thorough HBR Case study discussion…Also provided us with the real-time assignment and all the way was great learning under him. Thank you so much, sir, for providing a fact full learning.

Moved to DIGITAL MARKETING

As all of us are keenly aware of today's digital platform, it's highly essential to gain skills related to Digital insights of this era. And what could be better if you can grow your business digitally? You can access to millions and can enrich and enhance your customers through specific orientations and insights. Utpal Sir really made us aware of every kind of information and details related to digital marketing and gave us assignments to judge us through our practical skills. Thank you so much, sir, for providing such learning.

Jumped To BLOCKCHAIN

I can't wait to mention about Radhika Mam, she was really creative in her way of teaching and is a great personality;on a personal note, I loved learning about BLOCKCHAIN TECHNOLOGY. She arranged certain quizzes and gave us assignments which were short and precise and they really connected us to what we gained real insights on in the case studies we learned under her… It was really so factual and fun learning at the same time that I wanted to learn more and more about it…Thank you so much, mam, for such an amazing lesson and your experiences. This would really help a lot ahead.

Swiftly crossed to LEADERSHIP STRATEGIES

This session was taken by Aishwarya Mam right from the U.S.A. and she really taught us the effective skills we need to engrave in ourselves in order to be a precise, practical and efficient Leader. She too arranged fun quizzes and gave us assignments to project our views on case studies. We also gained insights from her personal experiences and knowledge related to Leadership. And finally got to discover that assessments were more to discover our inner reach and our hidden potential. We judged our true skills by doing certain assessments and learned ourselves more precisely and the necessary skills needed to develop. Thank you so much, mam, for such blissful teaching.

Last but not Least Arrived at STRATEGIC BRAND MARKETING.

It can't be enough to mention the insights we got from Anisha Mam, as she was very friendly in her way and made us gain aspects of such bigger Strategies within blinks. Learned a lot about real market strategies and the power of brands. Also, the presentations assigned helped to judge the knowledge and skills required for specific industries. The HBR case studies were so realistic in its way as we got connected swiftly and smoothly. Thank you so much, mam, for providing us such Equivocal and Real insights about Brands and Markets.

Overall I want to thank the overall team of MDP course for its whole lot design, keeping the real aspects of knowledge and students perceiving criteria. Everyone must try it once to experience real-world MBA effects through these courses and to boost their profiles. Amazing and Impactful content. Thank you.
Engage 7x MDP course offers 5 topics and it's completely worth it. It's very reasonable and very resourceful. The educators are experienced and have a lot of knowledge. It's really helped me built my profile and worry every penny.
I completed this course of 15 days and I never thought it would be so informative and interesting. The best part about the course was the faculties they were so interactive and engaging by adding quizzes, assignments, teamwork which gave me a hands on experience of what I actually learned. They also gave inputs and suggestions based on my work.

They covered the following subjects:

Digital marketing

As a commerce graduate I know the importance of digital marketing and advertising. Over this 3 days I got to know a lot of important concepts like SEO marketing, I also got certificates from google and Facebook.

Blockchain

For me Blockchain was the most interesting concept and I started considering Blockchain as a future career after this 3 days. They explained this concept right from scratch as it was a new concept for everyone and concluded with a few case studies.

Marketing and branding

I learned a lot of concepts which were taught in B school. All the concepts were again explained precisely by understanding case studies like heineken, Starbucks and Harley Davidson. On the last day we had to present all the concepts from a established brand's point of view.

Leadership

This was a very introspective session where I got to know a lot about myself as a leader in different aspects. I got some clarity about what I want to be a manager or a leader. Again on the last day we had to present on the concepts we had learned over the period.

Data analytics

This was also one of the most interesting and mind blowing session where I understood a lot about data analytics how it works. The most interesting part was the case study of Walmart and how they implemented data analytics.

To conclude:

It was great to understand the different subjects which any student can major in before entering in a MBA college and get hands on experience in those subjects and getting it reviewed by the industry experts.
15 days of learning, discussions, hands on implementation and case studies with real time business issues! This is the most interactive and that was the best part about it. Recommended course for all, MBA aspirants, students, likewise.
We initially kick-started with Digital Marketing followed by Data Science…… Block Chain……Leadership and Strategic Management and ended it with Strategic Marketing.

I never thought that I will learn so much in the next 15 days from the date of commencement of the sessions. All the aforesaid topics were taught in the time span of 3 days each and believe me……… it was outstanding.

All the mentors were experts in their respective topics and guided us throughout the journey. Be it our doubts or Assignment questions, every doubt was acknowledged for good.

Assignments…….. you might initially have a thought in your mind about the significance of the Assignments, but the moment you begin with the Assignments and complete them with the help of all the knowledge that you have acquired it becomes a practical application of your acquired knowledge……… provided you complete your Assignments without the aid of external sources such as Google, Wikipedia etc. Be honest with your Assignments and you will realise that you have started to become an intellectual individual who once was a newbie.

Finally, I would like to conclude that the Engage7x MDP Program was worth it. You shouldn't resist spending a little money on either of the two things, Health and Knowledge, join the course and experience the change within you.

Work Hard, Achieve Greatness. Thanks a lot for reading my answer, I hope it helps and would be worth your precious time
Engage 7x is a great collaboration of five really important subjects in this world of digitalisation which I guess everyone should have knowledge about. It's a short course with amazing possibilities beyond classrooms where you can possibly grow as a consummate professional. I would like to attest to the unwavering professionalism of all the great faculties who have made endless efforts to put forth so many new things in a limited time period. Motivation to learn something new and get updated in every aspect required so as to have satisfactory end results is something worth it. If you are genuinely interested in upscaling yourself to set the right foot forward into the industry I would recommend this course unequivocally, without a second thought!